Just found this on my hard-drive. By Zbigniew Rybczyński, its totally wonderful. made by painting thousands of hand made film mattes, no computers here… I wonder if I get a please remove this film message? Its seems to be rather difficult to find online.
[hdplay id=1]
This film, although a bit boring in truth, seriously influenced me as a young experimental film-maker. The fact that a very complex idea could be carried out, by hand, from start to finish, by one man, was very appealing. It encouraged me to do the same. I could never have completed something as vast as this, but I did spend some time producing film "by hand" That is to say, I shot black and white negative film, developed it by hand in an old Russian dev tank (I still have it) then constructed my own printer out of an old Bolex, where I cut a slot for the negative to enter, shone a light in the lens , and developed the resulting film. THEN applying hand made dyes to it… I did many hours of experiments of this, nothing survives. apart from a tiny bit at the end of Mise en Scene. The Cranes online documentary I made.
About the film Tango. This is snagged from the directors own pages here, I will take it down if he complains.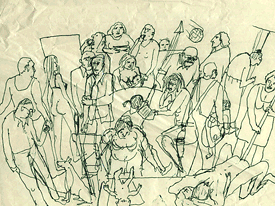 "Thirty-six characters from different stages of life – representations of different times – interact in one room, moving in loops, observed by a static camera. I had to draw and paint about 16.000 cell-mattes, and make several hundred thousand exposures on an optical printer. It took a full seven months, sixteen hours per day, to make the piece. The miracle is that the negative got through the process with only minor damage, and I made less than one hundred mathematical mistakes out of several hundred thousand possibilities. In the final result, there are plenty of flaws ® black lines are visible around humans, jitters caused by the instability of film material resulting from film perforation and elasticity of celluloid, changes of colour caused by the fluctuation in colour temperature of the projector bulb and, inevitably, dirt, grain and scratches."
– Zbig Rybczynski –Looking to the Future – Imagining the Truth," in FranÐois Penz, Maureen Thomas, Cinema& Architecture. Mþliús, Mallet-Stevens, Multimedia, BFI, London, 1997
*****
"In Tango, Rybczynski exploits this concept of the single offscreen space by filling it with a plethora of actions. It soon becomes obvious that such a small space, that of a small room, could not possibly contain all the actions taking place. Rybczynski also makes critical use of off-screen space, exposing it for the artifice it is. Off-screen space is the imaginary area beyond the edge of the screen, and in front of or behind the camera. There are a number of ways through to off-screen space in Tango – a window and a door in the back wall, doors on either side of the room, and cupboard which also has its uses. Rybczynski orchestrates his entrances and exits with great precision."
– Roger Noake, Animation Techniques, Secaucus, Chartwell Books Inc., 1988.